Postal Rates 1936 - 1954
Inland and Overseas Surface Postal Rates
Inland and Overseas postal rates for surface conveyance of various classes of postal articles are provided at the link below.
Inland & Overseas Surface Postal Rates (Jan 2013)
Overseas Air Mail Postal Rates
The New Zealand Overseas Airmail Postage Rates 1930-2011 has recently been co-published by Mowbray Collectibles and The Air Mail Society of New Zealand. This work reflects over 50 years of collaborative research by the late author Robin Startup and other leading New Zealand postal historians. The volume contains comprehensive information about the evolving routes, rates and countries to which correspondence could be forwarded by airmail from New Zealand during the George VI Period.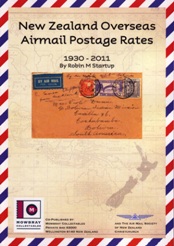 Copies can be obtained by contacting: